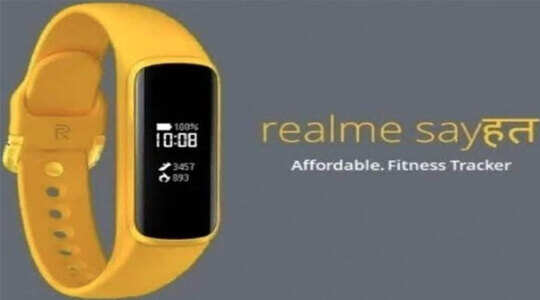 Madhav Seth, head of
New Delhi
Realme India, recently announced that the company will launch a fitness band in the first half of 2020.
This announcement was made by him in the 13th episode of the AskMadhav series.
The latest update of the same series has revealed that Redmi's budget fitness band can be launched in the Indian market only next month.
Recently a teaser associated with this band was also shared.
Some details have been shared by the company in gestures regarding the previous launch events, so the information related to the fitness band is not surprising.
In the 14th episode of AskMadhav, the head of Reality has confirmed that Realme XT50 5G will not be launched in India.
Along with this, he said that Realme's fitness band will be launched in India in February.
However, he has not stated the launch date of this wearable.
Realme Say Hat' will be named
during the launch of Realme 5i, yellow color Realme Fitness Band was showcased by Seth, which has a traditional watch buckle and directly the company launched it in the competition of pre-existing Xiaomi Mi Band. Gonna do.
A picture has now appeared on Weibo, in which the official poster of Realme Fitness Band is seen.
It has been revealed that the company named this fitness band 'Realme Sayhat'
If we consider the possible price and features
details revealed, then the fitness wearables of Reality will compete with Honor Band series and Xiaomi Mi Band series.
In this case, its price can be kept between 1500 and 4000 rupees.
The photo shown on the Chinese social site also shows the calories and step-count along with battery level and time on the band's display.
The logo of the company is seen in Trinity's fitness band near the traditional watch buckle.
A screen smaller than 1 inch in the wearable can be seen with touch-support.